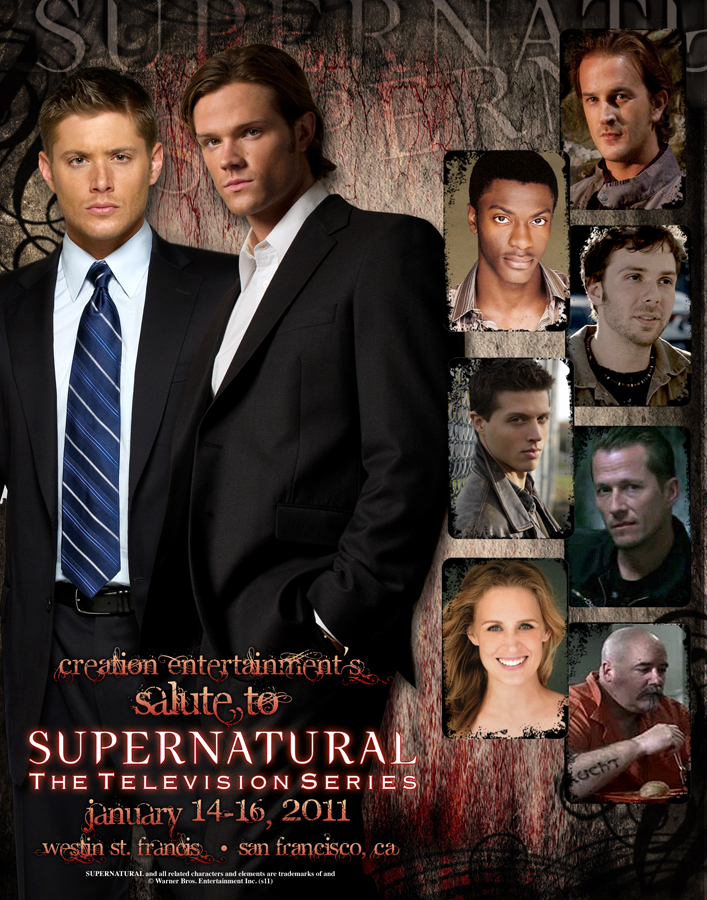 AffairsMagazine.com
has released a recap of the San Francisco Supernatural Convention this past weekend, mainly about Jensen and Jared's time on the stage.



The actors turned out in full force. Guests included Jared Padalecki (Sam Winchester), Jensen Ackles (Dean Winchester), Aldis Hodge (Jake Talley), Brock Kelly (Young Dean Winchester), Samantha Smith (Mary Winchester), Gabriel Tigerman (Andrew Gallagher), Corin, Nemec (Christian Campbell), Richard Speight Jr. (Gabriel), Clif Kosterman (Tiny) and Charles Malik Whitfield (FBI Agent Victor Henriksen).
Jensen, being the trooper he is, braved the convention with the flu, though Jared had more than enough energy for the both of them. The brothers discussed some of their personal talents and Jared even mentioned swiping a watch from every one of his roles as well as a decal from the Impala.
Spoilers after the break.
Most of the spoilers were done by the infamous Jared and Jensen.
Jensen told the crowd that Episode 17 is, in fact, the longed for Western episode. It seems the Winchesters will be traveling back in time to search for Samuel Colt, the creator of the one and only demon killing "Colt 45".
Dean Winchester will be trying to track down the hunters that killed

him and Sam in episode 16 of Season 5 "Dark Side of the Moon".
The boys also happened to let everyone at the convention in on the secret that:
Jared and Jensen let everyone at the convention in on the secret that Misha Collins (Castiel) will, in fact, also be appearing as himself.
You can read the rest of the interview
here
.